What kind of problem are you having? Select all that apply.
Wildlife Removal in Littleton
With our wildlife removal in Littleton, you can restore your peace of mind and protect your property from damage caused by unwanted animals. Wild animals can be an ongoing issue for Colorado residents, but with Whitmore on your side, you don't have to stress. From animal removal to damage repair, we are your one-stop shop for all things wildlife control!
We protect against:
Squirrels
Snakes
Bats
Raccoons
Rabbits
Birds
Skunks
Dead Animals
Image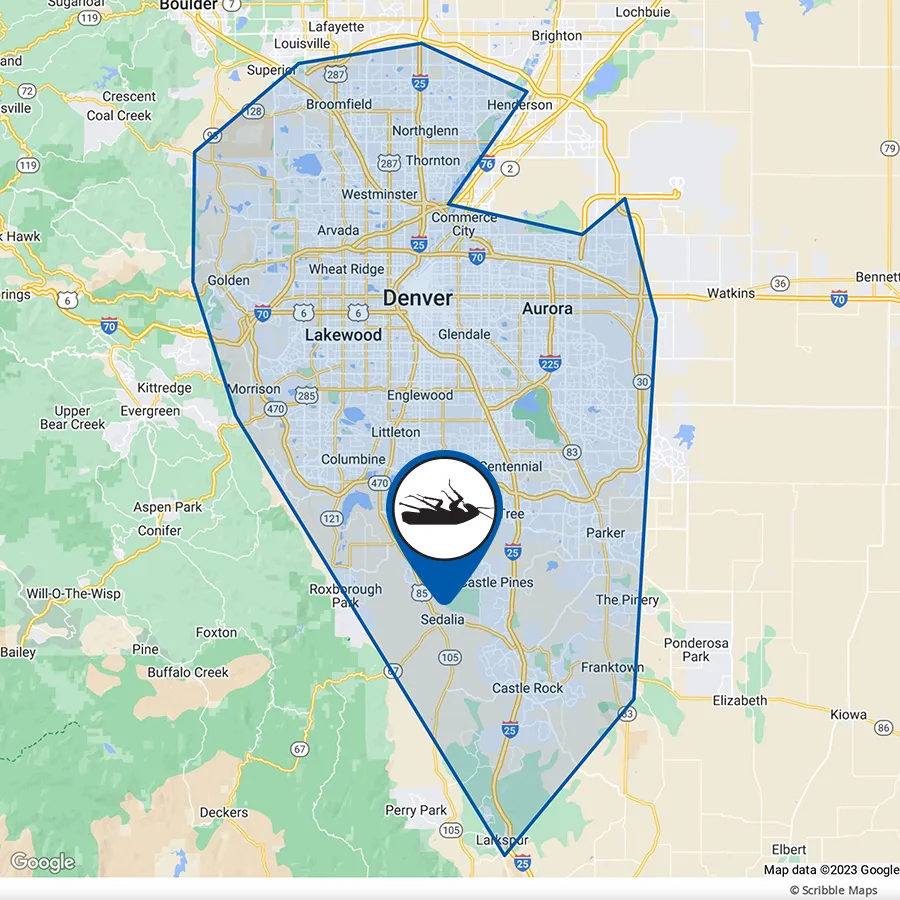 Trusted Experts Since 2011
Littleton naturally attracts wildlife year-round due to its diverse ecosystem and beautiful surroundings. Luckily, we've been in the business since 2011, so we've seen it all! Our Colorado experts are prepared to put an end to your wildlife issues once and for all. Here's what you'll get when you choose our wildlife control in Littleton:
Ongoing prevention: Our services go beyond just removing wildlife. We also offer ongoing prevention strategies to ensure that your property remains critter-free. 
Exclusion techniques: With our advanced exclusion techniques, we can keep unwanted animals from accessing your property. Our team will assess your property and implement measures to deter wildlife from entering, such as installing barriers and modifying landscaping.
Animal removal: Whether it's a squirrel in your attic or a skunk under your deck, we have the skills and experience to remove unwanted animals from your property. 
Damage repair: Animals living or dying in structures can cause damage to your property. Our team provides expert damage repair and restoration services, ensuring that your property is restored to its original condition.
Bird Removal in Littleton
Are birds creating a mess and causing damage to your home or business? Our professional bird removal in Littleton is here to help. With our range of services, we can effectively remove and control birds, including pigeons, mud swallows, and woodpeckers. Here's what our technicians offer:
Professional bird removal and control solutions tailored to your specific needs
Ongoing services to prevent future bird infestations
Effective deterrents to discourage birds from returning
Utilization of bird-friendly materials for repairs and prevention measures
Service from experienced, certified technicians
Squirrel Removal in Littleton
Say goodbye to squirrel troubles in Littleton with our comprehensive squirrel removal service! We offer more than just a quick fix - we provide ongoing solutions to prevent future infestations and protect your home. Here's what you can expect from our top-notch service:
Complete Squirrel Control: We don't stop at removal; we also focus on controlling squirrel populations to prevent them from coming back. Our team will work with you to develop a customized plan that fits your specific needs and budget.
Entry point repair: Squirrels are crafty creatures, but our technicians are one step ahead. We identify and repair all entry points, ensuring that squirrels can no longer access your home or property.
Traps: For squirrels residing in attics or wall spaces, we use effective trapping methods in coordination with durable repairs. We install traps or one-way doors to allow squirrels to exit the structure without being able to return. We follow up to remove the device and repair the final entry point.
Exterior trapping service: When squirrels become a nuisance outside your home, we have you covered. Our exterior trapping services can effectively address the issue and restore peace to your yard.
Bat Removal in Littleton
Bats can leave behind unsanitary guano, damage your property, and sometimes carry viruses. No one should have to deal with them in their home, and the sooner they're out, the better. Say goodbye to unwanted bat infestations and the associated unpleasant odors and disruptions today! Our bat removal and control services in Littleton are designed to provide a comprehensive solution to keep bats outside where they belong. Here's what we can do for you: 
Bat Control Service: Our expert team specializes in humane removal techniques to prevent harm to the bats while effectively removing them from your property.
Ongoing Roost Prevention: We identify and repair all vulnerable bat entry points using high-quality construction materials, ensuring that bats cannot re-enter your structure.
Guano Removal: Our experienced professionals can address any odor concerns by providing safe and efficient guano remediation services.
Skunk Removal in Littleton
Are skunks causing a smelly nuisance on your property in Littleton? Don't worry, we've got you covered! With our skunk removal and control service, we'll help you get rid of these unwanted critters and keep them at bay. Check out the benefits of our service:
Skunk control: We provide ongoing skunk control services to prevent any future infestations. Our professional technicians will assess your property, identify potential entry points, and implement effective measures to keep skunks away.
Exterior trapping services: If skunks are causing an exterior nuisance or there is a latrine on your property, we offer trapping services to capture and remove them safely. Our trapping campaigns run Monday-Friday with daily trap checks and resets, ensuring efficient removal.
Barrier installation: If skunks have chosen to den under a porch, patio, or shed, our team can provide barrier installation to prevent their return. We'll work with you to create a skunk-proof environment and protect your property from future infestations.
Skunks can be cute, but it's best to admire them from a distance. Call today if you need help with any wild animals!
Raccoon Removal in Littleton
Are you sick of catching raccoons rummaging through your trash cans? Stop them today with Whitmore! With our ongoing raccoon control service, you can have peace of mind knowing that we are dedicated to keeping raccoons away from your Littleton property. Our professional technicians will check and reset traps daily, ensuring effective removal and prevention. Here's how we do it:
Exterior trapping services: If raccoons are causing a nuisance on your property or leaving behind a mess, we can provide exterior trapping services to safely remove them and prevent further damage.
Raccoon removal and control: Our expert team will quickly and safely trap and remove raccoons from your property. 
Barrier installation: For raccoons that have made their home under your porch, patio, or shed, we can install durable barriers to prevent reentry and protect your property in the future.
Insulation restoration: If raccoons have made a mess in your attic space, don't worry. We can provide insulation cleanup and restoration services to ensure your home is insulated properly once again.