What kind of problem are you having? Select all that apply.
Pest Control in Castle Rock
Welcome to Whitmore Pest & Wildlife, your local pest control experts in Castle Rock, Colorado. With years of local experience, we are proud to offer a wide range of services to keep your home or business pest-free. Our team of skilled exterminators is dedicated to providing contract-free services and family-friendly treatments, ensuring your complete satisfaction. Here's what we can do for you:
Residential Pest Control: Keep your home free from unwanted pests with our effective and safe treatments. From ants to cockroaches, we've got you covered.
Rodent Control: Don't let rodents take over your property. We specialize in removing and preventing infestations of mice, rats, and more.
Wasp Control: Wasp nests can be dangerous, especially for those with allergies. Let us safely remove and prevent wasp infestations on your property.
Spider Control: Spiders can be a nuisance, but we can eliminate them from your home or office. Our treatments are effective against all types of spiders.
Bed Bug Control: Sleep tight knowing your bed is free from bed bugs. We have the expertise to eliminate these tiny pests and provide long-term prevention.
And More: We offer a wide range of additional pest control services, including cleaning & disinfecting services!
Image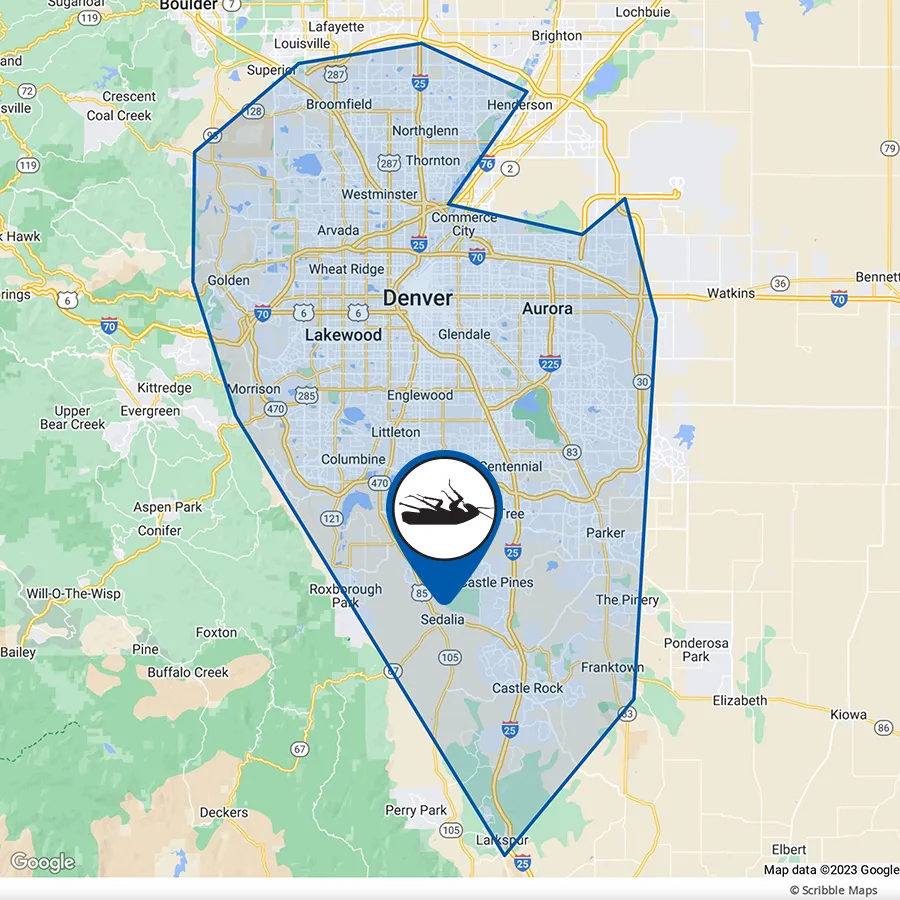 100% Guaranteed Protection From Bugs & Rodents
Our local pest control services specialize in getting rid of those common household pests that can disrupt your family and your pets' peace of mind. With our expert exterminators and thorough pest inspections, we'll ensure that your home stays pest-free all year round. And with our recurring services, we'll re-treat any lingering pests in between visits at no additional cost to you.
Here's what else you'll get with our pest control in Castle Rock:
Effective treatment for all types of pests.
A comprehensive initial inspection of both the exterior and interior of your home.
Ongoing treatments are scheduled to keep control of pests throughout the seasons.
Interior spot treatments of basement and garage included as needed to target specific pest areas.
Safe and reliable methods that won't harm your family or pets.
Hassle-free service that takes care of all your pest control needs so you can focus on enjoying your home!
Rodent Exterminator in Castle Rock
Mice may seem small and harmless, but they are a serious threat to your home or business. They can enter through very small openings and crevices along the perimeter, carrying many unwanted germs with them. Not to mention the damage rodents can cause by chewing through your property! Luckily, our mouse and rat exterminators in Castle Rock are here to help with comprehensive rodent control services. Give us a call, and we'll provide:
A thorough inspection to determine the most effective treatment plan for you.
An initial treatment and follow-up visits to ensure rodents stay out.
Follow up entry point inspection and repair if needed. 
If you are dealing with a mouse or rat infestation in Castle Rock, contact us today. At Whitmore, we offer effective solutions to eradicate mice and prevent future encounters.
Stinging Insect Exterminator in Castle Rock
It's important to take prompt action if you have wasps nesting on your property, as they can cause damage and pose a threat to both you and your home. By treating and removing the nests, you can effectively prevent any future stings from these pesky insects. If you're in Castle Rock, we offer expert stinging insect control services and can identify and treat nesting locations. We protect from:
Bald-faced hornets
Paper wasps
Mud dauber wasps
Yellowjackets
And more!
We Protect the Honeybees!
While they might disrupt your time outdoors, honeybees are incredibly important critters. Our experts will find where these insects are getting in, and if it's in a location where the hive can be relocated, we'll refer you to a beekeeper to remove the bees safely. In some cases, we'll need to treat the hive and repair the area so bees can't return.
Spider Exterminator in Castle Rock
Spiders are inevitable here in Colorado, but you don't have to share your space with them! Proactive treatment is the key to preventing infestation, and our exterminators can make sure you never have to worry about spiders taking over your home again. Whether you need a one-time spider extermination treatment, a spider control maintenance plan, or cleanup services to remove cobwebs and egg sacs on the exterior of your home, Whitmore has you covered.
While all spiders are annoying, call us immediately if you're noticing the following poisonous spiders in your home:
Brown recluses
Western black widows