What kind of problem are you having? Select all that apply.
Wildlife Removal in Castle Rock
At Whitmore Pest & Wildlife Control, we understand the challenges that come with our wide variety of wildlife in Castle Rock, Colorado. With its unique features and natural surroundings, Castle Rock attracts wildlife year-round. But worry not, because we are here to help you maintain a safe and peaceful environment for you and your family. When you work with Whitmore, you're guaranteed:
Professional Wildlife Removal: Our team of experts specializes in the safe and humane removal of a wide range of wildlife, including squirrels, snakes, bats, raccoons, rabbits, birds, skunks, and even dead animals.
Damage Repair: We remove wildlife and provide comprehensive animal damage repair services. 
Ongoing Preventive Measures: We believe in proactive measures to keep wildlife at bay. Our wildlife control service includes ongoing prevention techniques, such as exclusion methods, to ensure that the problem doesn't recur in the future.
Customer Satisfaction: We prioritize customer satisfaction and go above and beyond to ensure that our clients are pleased with our services. Your safety and peace of mind are our top priorities.
Respect for Wildlife: We are committed to treating all animals with kindness and respect. Our methods are designed to remove wildlife from your property while minimizing their stress and harm.
Image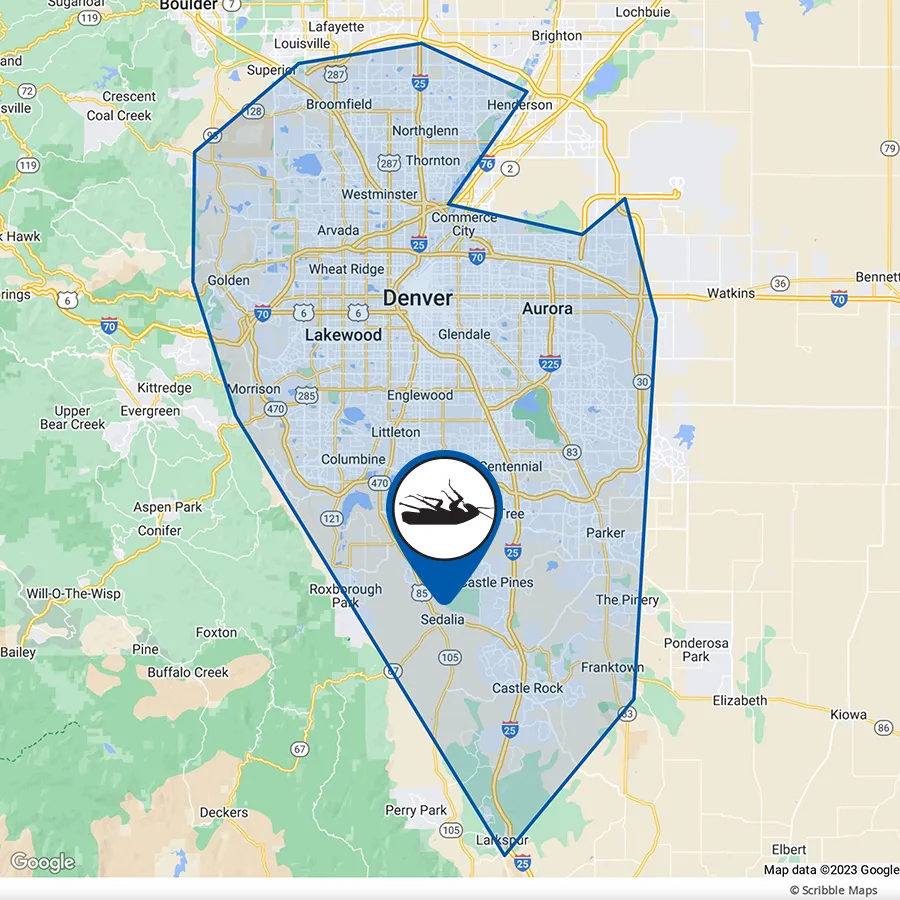 Bird Removal in Castle Rock
Birds can be a wonderful part of being outside until they damage your property and leave a mess while doing so. Don't worry, we've got you covered with our professional bird removal and control service. With our expertise and state-of-the-art equipment, we can ensure the job is done safely and effectively. Here's what we offer with our bird removal in Castle Rock:
Humane removal: Our team utilizes humane methods to safely capture and remove birds from your property. We prioritize their well-being as we understand the importance of treating all creatures with care and respect.
Ongoing prevention: We don't just stop at removal. Our bird control service includes implementing effective deterrents to prevent future bird infestations. We use visual reflectors, shields, and physical netting to keep birds away from your premises.
Bird nest removal: If birds have already built nests, our experienced technicians can remove them once the hatchlings are able to fly. We'll ensure that your property is free from any potential health hazards associated with bird nests.
Specialized solutions for specific bird species: Whether you're dealing with pigeons, mud swallows, or woodpeckers, we have tailored solutions for each situation. 
Swift and efficient service: We understand the urgency of bird removal, and that's why we prioritize quick response times. Our team will take care of everything from start to finish, ensuring a hassle-free experience for you.
Squirrel Removal in Castle Rock
Are squirrels wreaking havoc on your Castle Rock property? Don't let these cute critters cause damage and pose a fire hazard. At our company, we provide comprehensive squirrel removal and control services to safeguard your property and promote safety for you and your loved ones. Our wildlife technicians in Castle Rock provide you with:
Squirrel Removal: We remove squirrels to ensure the safety and well-being of your property.
Ongoing Prevention: We don't just focus on removal; we also prioritize preventing future squirrel infestations. 
Entry Point Repair: Squirrels are notorious for finding their way into attics and wall spaces. We identify and repair all access points, installing traps or one-way doors to allow squirrels to exit without being able to return. 
Insulation Repair: If squirrels have caused insulation damage, we've got you covered. Our team can remove and reinstall insulation after the squirrels have been successfully removed, restoring the comfort and energy efficiency of your property.
Exterior Trapping Service: We offer exterior trapping services to address this nuisance. Our trapping campaigns run Monday-Friday, with daily checks and resets by our dedicated technicians.
Bat Removal in Castle Rock
Are bats causing trouble in your home or business? Don't worry; our bat removal experts are here to help! With our comprehensive bat removal in Castle Rock, you can say goodbye to unwanted bat roosts and the issues that come with them. Here's what our service includes:
Bat Removal and Control: Our skilled team will remove bats from your property using effective techniques. 
Entry Point Repair: We will identify and repair any vulnerable areas where bats may enter your building using high-quality construction materials to ensure long-lasting repairs.
Roost Prevention: We prevent future entry and roosting by installing bat removal devices over active entry points. Our team considers the timing of bat pup flight to ensure the safety of any maternal bat colonies.
Guano Removal: If you're dealing with unpleasant odors or concerns about guano, our team can provide thorough guano remediation. 
With our ongoing bat control services, you can rest assured that your property will be bat-free and protected for the long term. Trust our experts to provide the knowledge and personalized solutions needed to keep bats living where they belong – outside!
Skunk Removal in Castle Rock
Skunks may be cute, but you definitely don't want them hanging around your home. The smell from a skunk spray can last weeks, and in some cases, any contaminated soil on your property has to be removed! But you don't have to worry about this with Whitmore on your side because we have everything you need to stay protected from these sprays:
Exterior Trapping Services: If skunks are causing a nuisance on your property or have established a latrine, our trapping services can help. Our technicians will set up and monitor traps to capture the skunks and ensure they are safely removed.
Barrier Installation: If skunks have made a den under a porch, patio, or shed, we can provide barrier installation to prevent them from returning. Our experts will secure the area to make it skunk-proof and protect your property.
Skunk Control Service: We don't just remove skunks, we also provide ongoing control measures to prevent future infestations. Our experts will identify and eliminate the food sources and habitats that attract skunks to your property.
Raccoon Removal in Castle Rock
Our team of experts can safely and efficiently remove raccoons from your property using proven trapping methods. As Colorado locals, we understand the habits and behaviors of raccoons, allowing us to effectively capture and remove them. Don't let these critters leave messes on your property for any longer, and call us today!
Our raccoon removal in Castle Rock includes:
Exterior Trapping Services: If raccoons are causing a nuisance outside your home, we offer expert trapping services to capture and remove them. Our technicians will set up traps and check them daily, ensuring efficient removal and minimizing any further disruption to your property.
Barrier Installation: To prevent raccoons from returning to your property, we can install durable barriers in coordination with the removal. This ensures that raccoons cannot access vulnerable areas such as porches, patios, and sheds.
Insulation Restoration: Raccoons can cause significant damage to your insulation, compromising the energy efficiency of your home. Our team can restore and replace damaged insulation, improving both the comfort and value of your property.